After the last seven days, Arsenal came into this one REALLY needing a win. For the oft mentioned eighth year in a row, Arsene Wenger's side watched the hop of trophies disappear over the horizon, an in more embarrassing circumstances than ever before under his stewardship.
For once, the home side didn't find themselves crippled by early tension and started much better than much of this season. Wilshere was denied early by Guzan, before Cazorla reacted fantastically to his left foot shot being blocked by Baker and stroked it home first time with his right. Villa's youthful defence, terribly exposed this season, looked there for the taking, but as so often in recent months, Arsenal seemed unable to retain any intensity in their performance. Even the metronomic Arteta was guilty of basic lapses of concentration in possession.
For their part, Aston Villa came with a clear game plan that was both brave and a good use of the resources at the manager's disposal. Defending deep to protect an inexperienced back four, they left two or three men up the pitch for the majority of the match, hoping to catch Arsenal on the break with the pace of Wiemann, N'Zogbia, Agbonglahor and Benteke.
Given the space available behind Arsenal's full-backs and the customary lack of midfield protection, it is a surprisingly rare tactic for teams visiting The Emirates.
It also made for a very open game which, with better finishing and decision making in the final third, could have been a high scoring classic.
Both teams were hampered by a lack of dexterity in their respective target men, though Giroud's link play was by far the more effective of the two.
In general play however, there was a clear contrast between the two teams. Arsenal suffered from their recurring disease of not moving the ball quickly enough, whereas Villa were often guilty of trying to move the ball too quickly. It made for a contest between two fundamentally imbalanced teams was intriguing if nor very comforting from an Arsenal perspective.
The pattern of slow Arsenal pressure and spasmodic Villa counters continued throughout the first half and much of the second. As usual the hosts were guilty of wastefulness with their final ball, and with twenty minutes to go this appeared to bite them in the rear.
For the second time in five minutes an Arsenal corner led to a four on three Aston Villa break, and Wiemann scored with a fierce dipping shot unopposed from 20 yards.  A shot that Szczesny really should have saved.
Unsurprisingly, Arsenal were shocked into action. The tempo and intensity improved, and before long Podolski replaced Jenkinson to turn the screw. Lambert responding by replacing one winger with another, gambling in the hope if valuable points in his side's relegation battle.
The last twenty minutes were largely a succession of hopeful balls for Giroud, low flashed crosses and almost constant Arsenal possession. Giroud and Podolski both failed to anticipate crosses form the right that should have yielded tap ins, and Giroud's header from a corner was tipped onto the bar. Finally, a beautiful chipped ball from Wilshere released the overlapping Monreal, whose cut-back was finished deftly by his former Malaga team-mate Cazorla.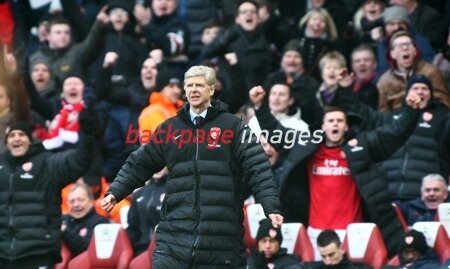 The close-up shot of Andreas Wiemann slumped over the advertising hoarding, exhausted and despondent was a potent summing up. Despite subsequent efforts from Villa, that was to be the game's defining moment, and in the final minutes Arsenal had the bulk of possession and chances, with Walcott forcing another good save from Guzan.
Three very welcome points courtesy of the our little Spaniard's calmness in front of goal.
Conclusions?
Despite the comments of the pundits, Arsenal were worth the win, and in all honesty it should have been more comfortable, particularly in the second half.
That said, this team is still woefully imbalanced, with stodgy team attacking exposing over-worked defenders again and again. Arteta remains the only midfielder with any real sense for danger, and Diaby's latest muscle injury robs the team further of physical strength and recovery pace from midfield.
As I've said on here before, we seem to have personnel suited to a variety of formations, but cannot cobble together a first eleven that are all optimised for any particular tactical set up.
The team continues to be set up like Barcelona 'lite' in terms of positions, whilst omitting the key components of a midfielder with clear defensive responsibility, cohesive team pressing, and real start quality going forwards.
Given that it is safe to assume that the current manager will remain in situ for at least another fifteen months, it is imperative that he seeks to address the lack of defensive strength in midfield. Whilst Arteta is doing better than could have been anticipated as a hybrid defensive screen/deep lying playmaker, he is often outmanned. For all his virtues, he lacks the pace and physicality to really excel in the role. The squad is crying out for a defensive midfielder with the attributes to also fill in out at centre-half if need be.
Up front we have a strong supporting cast, but no lead.  Podolski, Walcott and Giroud can all flourish with a real top player alongside them, but lack the essential quality to really lead the team going forwards.
In many ways the players that this team lacks in this system are essentially those we have lost, and we often look as though we are set up to play as if they were still there. But Song, Van Persie, Fabregas, Nasri and Clichy have gone and need to be forgotten.  There has been some progress – for Clichy and Nasri read Monreal and Cazorla, and Jack's return has started to soften the blow of Cesc's loss, but there are still Song and Van Persie shaped holes in the squad. It was rumoured that  in the last transfer window Wenger pushed to sign Etienne Capoue from Toulouse, who would certainly be a more defensively disciplined replacement for Song. Obviously replacing Van Persie will be a much harder task, but the manager's public pursuit of David Villa suggest that it is an issue he recognises. My preferred option of those mooted in the media would definitely be Stevan Jovetic of Fiorentina, simply because I think he is the closest thing there is to a right footed Van Persie in terms of position and quality who isn't prohibitively expensive or already playing for a more successful team. A competent goalkeeper to legitimately challenge Szczesny for the number one shirt would be very welcome as well.
Final thought:
Diaby is so scared of getting injured that he is constantly playing within himself, and then today pushing forward he finally broke out of his torpor with some good attacking play…and got injured. If it's more than a couple of weeks that should probably be his p45 in the summer, as for all the value he has in this squad, when he is playing safe the whole time it negates much of what makes him potentially so valuable. His combination of physicality and skill and his ability to break forward with the ball are unique at this club, but when he is not willing to risk pushing himself to the level we saw at the start of the season, he becomes nothing more than an above average ball winning midfielder. And in those circumstances, he is eminently replaceable with someone less injury prone.
#CANNONYOUGUNNERS

>